T-shirt
THE INFORMATION BELOW IS FOR LAST YEAR'S CONVENTION.
CHECK BACK AGAIN LATER FOR UPDATED INFO ON MARSCON 2014.
MarsCon 2013′s theme  is "Ctrl/Alt/Del… Thriving Into The Future!" So, can you name all the Dementia Track participants and the computer-related character they represent? For a closer look at the individual drawings, go to the "Performers" page.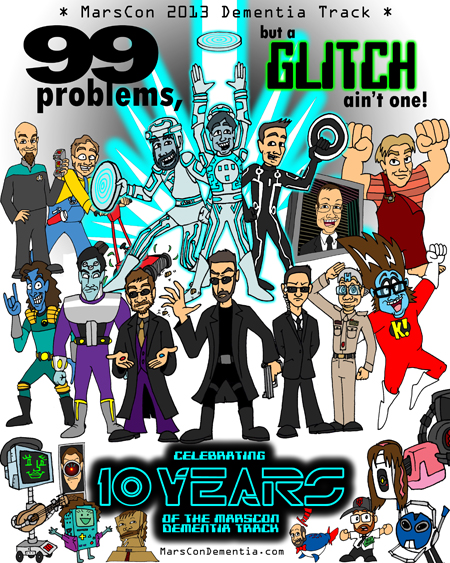 To order your T-shirt through Spreadshirt, just follow this link: http://dementiaradio.spreadshirt.com

Please note also that nobody (besides Spreadshirt) is making any money off of these shirts. They are not a part of the Dementia Track Fund Raiser, they are just being made because the fans wanted nifty shirts to wear. Special thanks also to "Blasted Bill" Putt  for setting up the shirt for us on the Dementia Radio Spreadshirt account. Artwork by Luke Sienkowski. Visit ArtbyLuke Ski.com for more.
PS: The answers to who is who is here.